---
Mayor's Office
Under the Mayor-Council-Manager form of government, the citizens elect a Mayor at-large from the community. Local elections are held the first Tuesday in November, but the mayoral election only occurs in odd years.
The Mayor presides at all City Council meetings and has a tie-breaking vote when the members present are equally divided. The Mayor also has the power to approve or veto any ordinance, subject to an override of the Council. The Mayor is also responsible for:
Signing official documents on behalf of the City;
Signing the commissions and appointments of all elected and appointed officials;
Representing the City at ceremonies and meetings;
Making recommendations to the City Council.
The mayor presides over all City Council meetings and signs all ordinances, resolutions, contracts and agreements authorized by the Governing Body.
The mayor also meets with residents, business associates, local and regional elected officials, students, Scouts and city staff members and advocates for the city's success at every opportunity. The mayor also attends ceremonial duties such as dedications, grand openings, ribbon cuttings, and welcomes for groups meeting in the city. In addition to local efforts, the mayor serves on many boards and commissions in the region to help promote our citizens' interests in larger discussions.
Current Mayor of Osawatomie
The current Mayor of Osawatomie is Nick Hampson, former Ward IV Councilmember. Mayor Hampson was elected in the November 2021 elections and sworn into office on January 13th, 2022.
Contact
The Mayor's Office can be reached in a variety of ways. While the Mayor doesn't have a physical office in City Hall, city staff is happy to assist in transferring messages or requests through regular City Hall channels.
To reach out directly, or if you have a confidential matter, please submit a message via email to [email protected]. The mayor's email account is managed exclusively by the mayor, while the Osawatomie Mayor Facebook page is co-administered by the Mayor and city staff.
---
City Council
The City Council is comprised of two members from each of the City's four wards. Citizens from each ward elect a representative to the City Council. Each council member's term is four years but staggered so that every other year a representative is elected from each ward.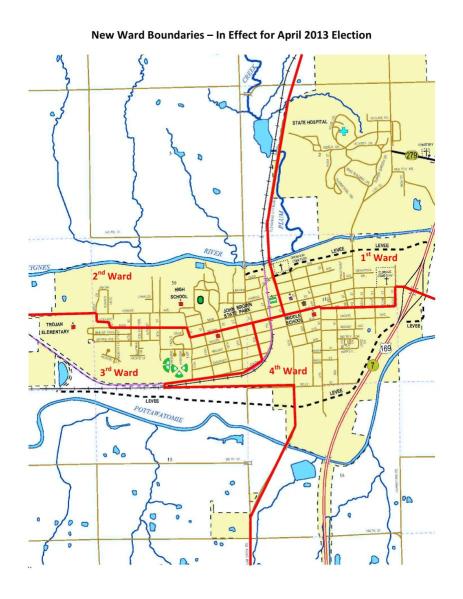 The City Council meets to provide direction to the City Manager and City staff on the business of the City. These issues include financial issues, such as taxes, utility rates and budgets, as well as policy issues such as economic development, public safety, and property standards.
The City Council also elects one of its own members to serve as the President of the Council. The Council President presides at all meetings of the council in the absence of the Mayor. However, in the absence of the Mayor, the Council President does not have the veto powers of the Mayor and retains the same voting privileges as other Council members.
---
Please click on a name for additional contact information.