About the City of Osawatomie, KS
Osawatomie, Kansas. The Cradle of the Civil War. The birthplace of New Nationalism. Where John Brown, a passionate but peaceful New England businessman-turned-abolitionist, emerged as a bloody martyr for the Union. Where former President Theodore Roosevelt recaptured the attention of the nation and launched himself back into the political spotlight. A place built by railroaders and farmhands, by clergymen and businessmen. A place of quiet determination and hard-earned successes, where generations of families have planted deep roots along our twin riverbeds (the Osage and the Pottawatomie, from which the town gained its unique name).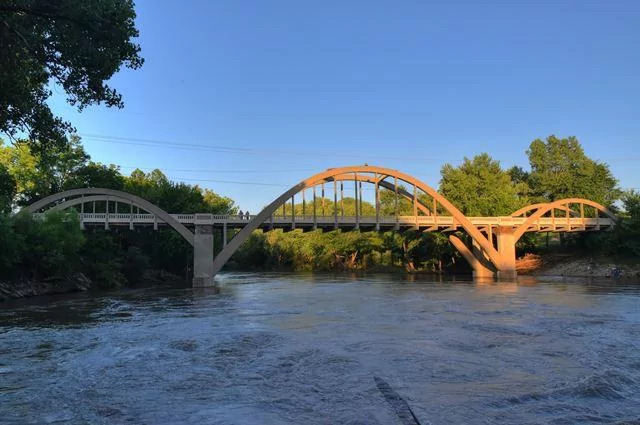 The Osage River was called the Marais des Cygnes (marsh of the swans) by French explorers and trappers living among the local tribes, and the Kansas Legislature later adopted the name "Marais des Cygnes" in Kansas because there is another Osage River in Kansas. The Creamery Bridge, shown here, is one of our renowned historical sites.
A quintessential small town, boasting a population of just 4,300, Osawatomie sits 55 miles south of Kansas City along US-169 HWY. Small but mighty, Osawatomie checks off a multitude of boxes on a list of desirable qualities. Our downtown district, a brick-clad block of Main Street, is home to locally owned businesses and restaurants. We have a consistently high-performing school system, including several wins for Kansas Teacher and Master Teacher of the Year. We produced two NFL stars: Lynn Dickey of the Green Bay Packers and Derrick Jenson of the Oakland Raiders. We are especially proud of our rich and storied history, from our abolitionist Jayhawker beginnings (the Kansas Historical Society agrees that Pat Devilin first coined the phrase 'Jayhawker' here!) to our landmark visit by President Barack Obama in 2011. Surrounding it all is a lush spread of gorgeous Kansas landscapes, including winding rivers and rolling fields dotted with banks of wild sunflowers. We even have eight spots catalogued with the National Register of Historic Places and the Kansas State Historical Society
Among those Historic Places is the unique "Asylum Bridge," a metal truss bridge that once connected the town to the psychiatric facility nestled across the river to north. Though the bridge was boarded up long ago, the Osawatomie State Hospital is still operational. From the time the Hospital admitted its first patient on November 1st, 1866, the Hospital has gone from housing hundreds of beds during the heyday of psychiatric institutionalism to today's modest 174-bed capacity. Recent changes in administration promise a new golden age for our hospital and its community of patients, staff, and advocates. Remodels are already underway at many of the core facilities and new programs are being implemented every day to help improve the quality of care for patient and provider alike.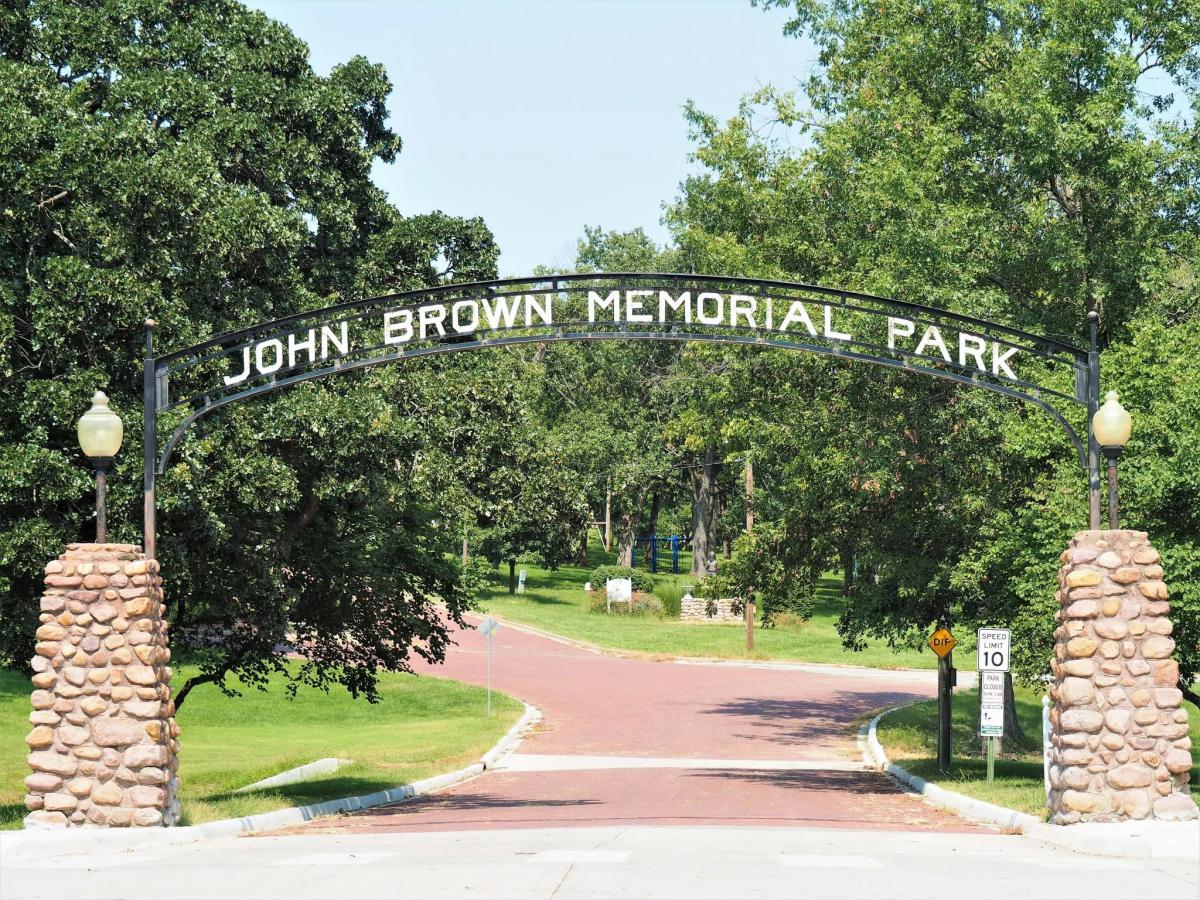 The entrance to John Brown Memorial Park along Main Street in Osawatomie. A bronze statue of John Brown can be seen from the gate.
Other Historic Places include John Brown Memorial Park. Anchored alongside Main Street, the park was the site of the Battle of Osawatomie, where the outnumbered John Brown and his men fought against pro-slavery raiders. The park was dedicated in his honor in 1910 by Roosevelt, who used the opportunity to deliver his now infamous New Nationalism speech. The John Brown History Museum sits on a hill inside the park, overlooking playground equipment, a shelter house, and a small campground. The museum's visitor log frequently shows guests arriving from as far away as Japan, Germany, the United Kingdom, and beyond. The museum is home to the original Adair cabin, which was used as headquarters by Brown during his time in Kansas. There is evidence to suggest that the cabin, which was built by Brown's half-sister Florella Adair and her husband the Reverend Samuel Adair, was also a stop on the Underground Railroad and archeological digs have taken place at the cabin's original location to further uncover artifacts of the era.
From the outside looking in, Osawatomie could be the backdrop to a Hallmark movie. Quaint architecture, tight-knit people, and a deep connection to our history and roots. But we've seen our share of hardships. The years haven't always been kind to us. The city was razed in 1857 by pro-slavery forces, leaving just three buildings standing. An apocalyptic flood in 1951 almost washed us from the map. Just fifty years later, another "once in lifetime" flood evacuated nearly 40% of our residents and splashed us across national news stations and headlines.
Even in the face of such adversity, however, we keep moving forward with all the strength and energy we can muster. We form committees, we apply for grants, we fundraise, we brainstorm. From our Rotarians and our business leaders, to our city government and our librarians. Teachers, coaches, moms and dads and grandparents. We give to each other as freely as we can, and are always quick to lend a helping hand when someone in our community is in need.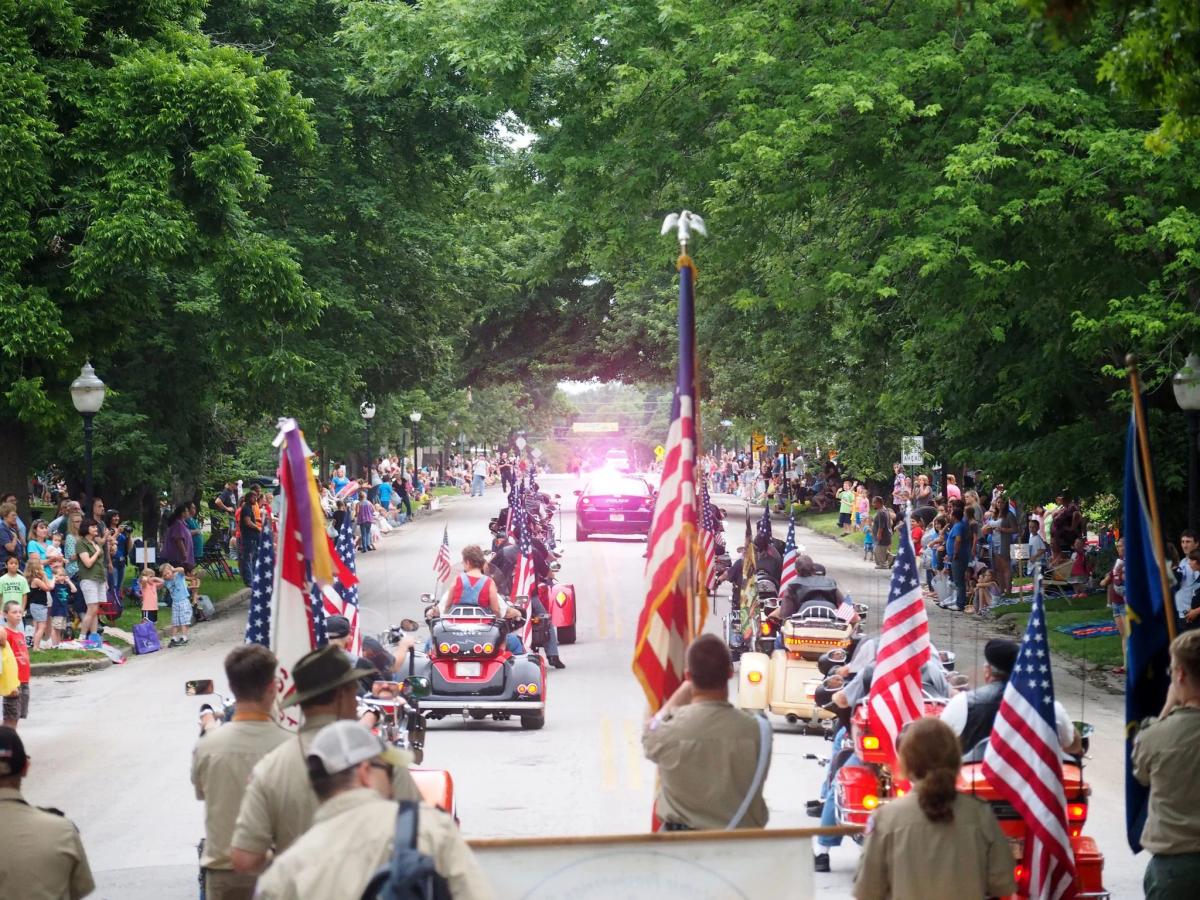 The John Brown Jamboree, now known as the Lights on the Lake festival, takes place every summer. The annual parade down Main St. is a much beloved part of that tradition.
We all pitch in to make Osawatomie as pleasant a place to live as anyone could ever dream. For over 50 years we've hosted an annual summer festival called the John Brown Jamboree, which brings to town carnival rides, a parade, outdoor concerts, and so much more. We've even added a firework show over the lake. In the fall we celebrate Freedom Festival and welcome Civil War reenactors and folk artists to the park for a weekend transported back in time. We even have a soap box derby zooming down Main Street in the spring. Countless other community events sprinkle the calendar pages every year and we carry on our traditions and values from generation to generation.

We take pride in our small town, and our quiet way of life. We're proud Kansas people with classic Midwest dispositions. And, it goes without saying at this point, but we truly are a city embedded in America's history. Every brick in the road, every tree reaching up into the clear blue Kansas sky, every mile marker on the old highway. It all tells a story. Our story. And we're just getting started writing the next chapter.
Just as the name of the river has changed, so has the course of the two waterways that were and are so central to Osawatomie. They ebb and flow but remain, still constant.
Margaret Hays, "As Constant as the Rivers"