Project Information
Free Land for Qualified Projects!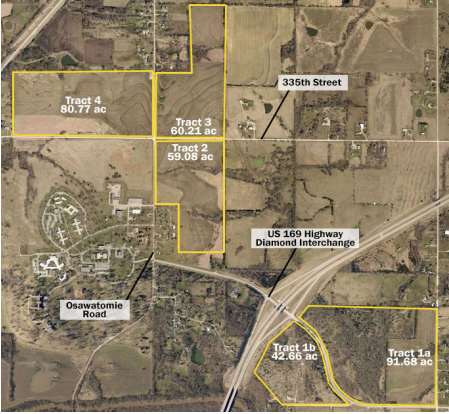 Flat Topography
Currently in Agricultural Use
Can Subdivide
Industrial Zoning
Within City Limits
Foreign Trade Zone Eligible
Outside 100 Year Flood Plain
Fire Insurance Class Rating 4
Phase 1 Environmental Audit Completed
Soil Borings Completed
The Northland Development includes tracts 1a and 1b which are located on the east side of US 169 Highway. In this area the city anticipates light industrial, residential and commercial uses. Tracts 2, 3 and 4 are set aside for heavier industrial uses. They are located to the west of US 169 Highway at 335th and Osawatomie Road. Zoning is in place. Lots will be subdivided as needed to meet operational requirements. In addition to owning the tracts, the city provides water, sewer and electric services. Natural gas and fiber connections are offered by multiple providers. The Northland qualifies for New Market Tax Credits and the Federal Qualified Opportunity Zone. It is also designated as an Environmental Justice Area. The incentives offered by these programs may be layered with property tax exemptions and financing options such as Industrial Revenue Bonds and Tax Increment Financing.
Northland Development - Development Information Packet
The City of Osawatomie works closely with the Miami County Office of Economic Development to ensure the latest information and incentives are available for those interested in the Northland Properties.
Developers
Are you a developer that is interested in submitting a proposal for the Northland Project? If so, please contact City Manager Mike Scanlon or Miami County Economic Development Director Janet McRae.
Staff Contacts
| Name | Title | Phone |
| --- | --- | --- |
| Michael Scanlon | City Manager (Osawatomie) | (913) 755-2146 Ext. 107 |
| Janet McRae | Economic Development Director (Miami County, KS) | (913) 294-4045 |